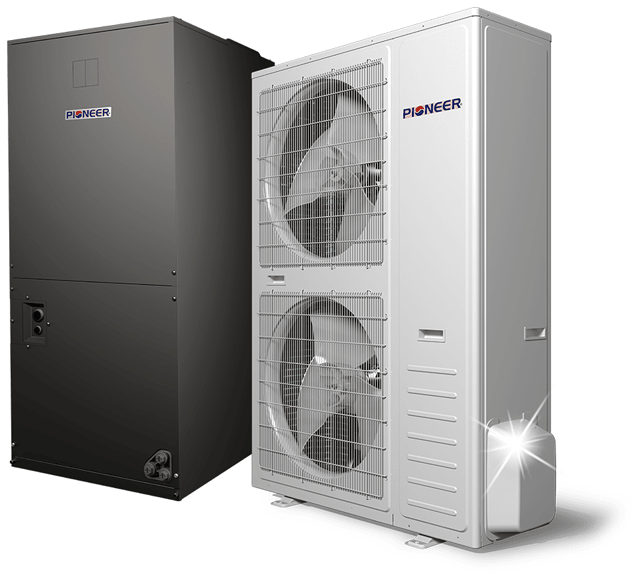 Convertible Central Split
Ducted Convertible central split systems offer climate control for multiple rooms and areas, utilizing a network of air ducts (existing or field designed) using a single set of equipment, ideal for whole house climate control. In this setting a single set of equipment will properly condition a large area with many rooms, under the same comfort settings.
Variable Speed Inverter+ Compressor
DC Inverter+ compressor is driven by a sophisticated controller module, and adjusts its refrigeration capacity based on the suction gas temperature to match the exact cooling or heating loads.
Variable Speed ECM Indoor Fan Motor
Electronically controlled indoor fan motor provides the correct static air pressure and volume for perfect air distribution through any ducting to each of the air registers through the conditioned space.
Three Way Field Convertible Air Handler
Air handler is field configurable in vertical upflow, horizontal right, and vertical downflow modes, to match with all types of HVAC design requirements by simple field conversion.
Models
| Model Number | Capacity (BTU) | Efficiency (SEER) | Power Supply (V) | Suitable Area (SQF) | AHRI |
| --- | --- | --- | --- | --- | --- |
| DYR1824GMFI18R | 26000 | 18 | 220 | 800 | Certificate |
| DYR3036GMFI18R | 36000 | 18 | 220 | 1200 | Certificate |
| DYR4260GMFI18R | 56000 | 17.5 | 220 | 2000 | Certificate |
Frequently Asked Questions
Does this unit come preloaded with R-410A?
Yes it does.
How can this modulate with a standard thermostat?
This unit modulates based on suction temperature and pressure. It determines the load on the system based on the internal heat load measurements and adjusts to meet the load automatically.
Does this unit come with everything for installation?
It comes with everything needed except for tools, wiring, and piping.
Can this unit be configured as downflow, for purposes such as trailer homes?
Yes, this can be field-configured as downflow.