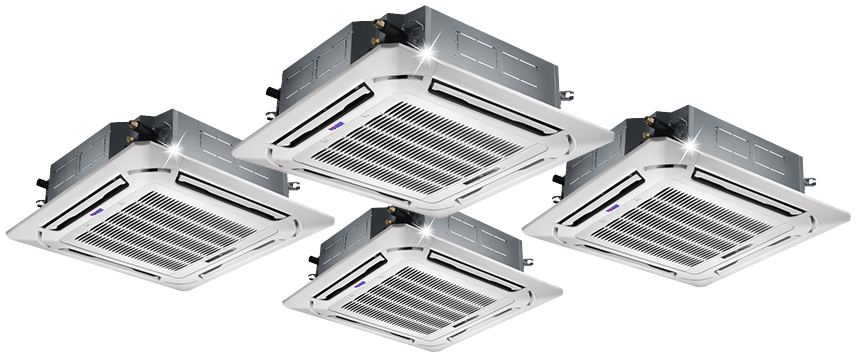 Multi Split Indoor Sections
We understand that the thermal comfort needs of our customers are as unique as the layout of their homes. That's why our catalog offers a multi unit solution for those that need more power, more control, or both. Our multi split systems can support up to five (5) individual zones using just a single outdoor unit, so there's truly a solution for everybody.
A Mulititude of Selections
Customize your setup by choosing from a variety of indoor sections, including wall-mount, ceiling cassette, or floor/corner/low wall units.
Independent Zone Control
Set the temperature of each zone individually, so that your home is able to support the versatile needs of each room.
Single Outdoor Unit Sharing
Uncomplicate your configuration by taking advantage of the convenience of just a single outdoor unit supporting up to five indoor units.
Frequently Asked Questions
What does "multi-zone" mean?
Zones are usually interpreted as the entirety of an open area. If you require temperature control of two areas that are closed off from one another, you would need a dual-zone system. Single-zone systems can be with large enough capacities to take care of areas of up to 1,600 square feet, as long as no portions of the area are closed off from the rest.
Can I mix and match indoor units that have different BTU outputs?
Yes you can. For example, configurations such as 9k+9k+12k+12k are possible with a quad-zone setup. It is vital to ensure that a proper outdoor unit that can support the chosen configuration is selected. Please refer to the "Indoor Matching Table" sheet in the Downloads section.
Can another zone be added later on?
The system set that is purchased should take into account the maximum amount of zones that will be needed. If you currently only need two zones, but plan on adding one more in the future, then a triple-zone set should be purchased. You will not able to add on another indoor unit to a dual-zone to turn it into a triple-zone.
What if the amount zones that the outdoor unit is listed as cannot support the total BTUs that the indoor units require?
The simple solution is to step up the outdoor unit by an additional zone, but leave the extra one empty. For example, while a dual-zone outdoor unit cannot support a 9k+18k configuation, a triple-zone outdoor unit surely can. The third zone would then be left empty.