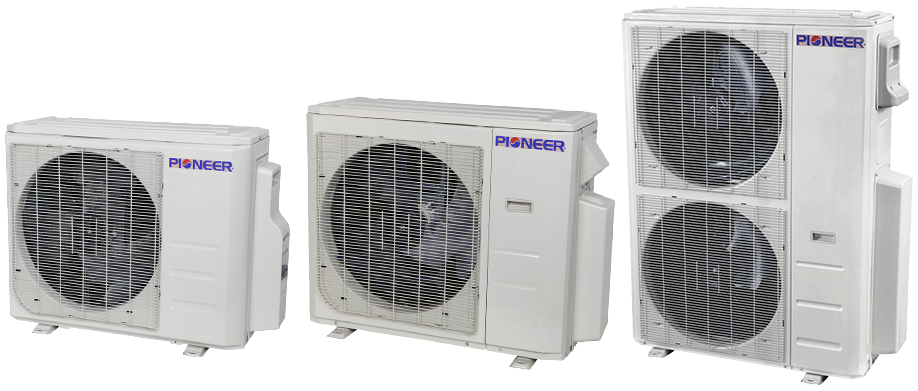 Multi Split Outdoor Sections
With capacities ranging from a modest 4,200 to a staggering 48,000 BTUs of consistent energy output, our outdoor units are more than capable of handling the wide range that our customers require. And with the convenient ability to pair them with the amount of indoor units and zones that is desired, there is truly a home comfort solution for everybody.
Powerful Output Range
Our outdoor unit selection is capable of managing a system that requires delivery of up to 48,000 BTUs of consistent energy (and up to 53,500 at peak times).
Minimal Usage of Space
For whichever quanitity of zones managed, Pioneer users can take delight in the convenience of just a single outdoor unit to deliver their in-range thermal needs.
Fully Customizable Pairing
Every home is unique, which is why we offer the ability to customize your system set according to the metrics you wish to fulfill. Match your system sections on your terms.
Models
| Model Number | Capacity (BTU) | Efficiency (SEER) | Power Supply (V) | Suitable Area (SQF) | AHRI |
| --- | --- | --- | --- | --- | --- |
| YN020GMFI22M2D | 17000 | 21.3 | 220 | 600~800 | Certificate |
| YN030GMFI22M3D | 27000 | 22 | 220 | 800~1200 | Certificate |
| YN040GMFI22M4D | 36000 | 22.5 | 220 | 1200~1600 | Certificate |
| YN050GMFI22M5D | 48000 | 21.5 | 220 | 1600~2000 | Certificate |
Frequently Asked Questions
What is the maximum total indoor unit capacity that a single outdoor unit can support?
The most powerful outdoor section (the quint-zone unit) can support an indoor unit configuration that adds to a total rating of 64,000 BTUs. However, this is simply the maximum BTU rating that the indoor units are allowed to add up to, the real output capacity of the quint-zone is 48,000 BTUs (with a capability to push out 53,500 BTUs when needed).
Does the outdoor unit supply power to each of the indoor units?
Yes, the outdoor unit will be able to supply power to the same amount of indoor units as the number of zones that the outdoor unit is rated for.
Are multi-split outdoor sections less efficient than multiple single sections?
Not at all. The SEER rating for our multi-split outdoor units are 21 and above.  Having one outdoor unit manage all of your indoor units will also save money both in the short and long run.
Will the outdoor unit support different types of indoor units (such as wall-mount, ceiling cassette, etc.)?
Yes, you are free to mix and match the types of indoor units as you see fit. However, you must ensure that they add up to the allowable BTU limit, and the quantity of zones that the outdoor unit is rated for.