Product Registration
Please take the time to register your new product!
Complete and submit this information within 14 days of installation and get the best warranty terms and important updates.
Warranty Service Department
Parker Davis HVAC International, Inc.
3250 NW 107th Ave Doral,
Florida 33172 – USA
Tel: (305) 513‐4488
Email: pw01@pdhvac.com
How to find your Serial/Model Number
In most cases, the Model Number and the Serial Number tags are located on the right-hand side of the system. For the Diamante series, the serial number on the indoor system is located underneath the front panel and behind the electrical cover.
For outdoor systems, you will find the serial on the inside face of the electrical cover.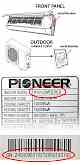 Please note that the location and appearance of serial number tags may be vary from those illustrated here.
Printing the registration form
If you want to fill the Warranty Card by hand, you can download and print it. Please fill all fields and send to us by mail, email or fax to the address in the form.
---
Information marked with (!) must be filled out by the Installer only. By clicking "Submit Registration" button you are acknowledging that all the information entered is true and correct.
Note: Much of this information will be on the invoice provided by your installing contractor. If you need help, please contact your installing contractor.