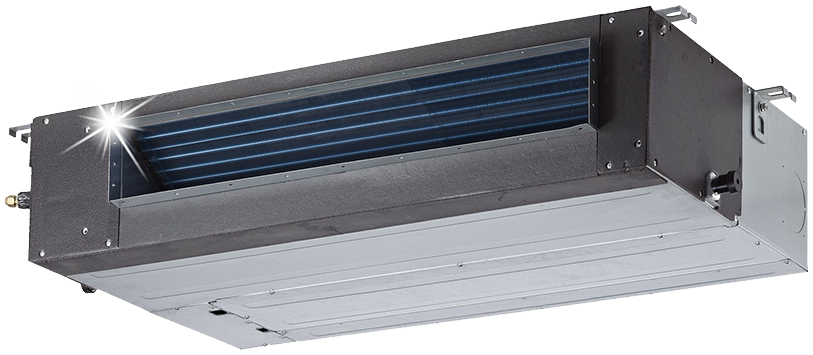 Mini Split Ducted Concealed Systems
Pioneer® Ducted Concealed mini split systems offer climate control for multiple rooms and areas, utilizing a network of air ducts (existing or field designed) using a single set of equipment. Ideal for use in specific climate zones with distinctive separations within, like a master suite, where the zone can be split up into sub zones, such as a bathroom, study, dressing room, etc. In this setting, a single set of equipment will properly condition all areas of the entire zone based on the same comfort settings. Six capacities are available under this category to cover distinctive zones of every size and complexity.
Adjustable External Static Pressure
Indoor unit main controller circuit board offers adjustable external static pressure options to match air flow requirements based on duct length and complexity.
Fresh Air Intake Provision
Fresh air connection knock-out on the body allows the connection of a small round duct to bring in fresh air from the outside, for certain applications requiring fresh air supply.
Convertible Return Air Provision
Return air ductwork can be attached to the unit, approaching from the rear side or the bottom side through the convertible return provision.
Optional Built-in Drain Pump
Built-in pump with float switch removes the condensate water out of the unit efficiently and automatically, with a 30 inch lift capability and quiet performance.
Refrigerant Leakage Detection
When a refrigerant leakage is detected, the indoor unit will show error code "EC" and stop automatically. This protects the compressor from high temperatures and damage due to refrigerant leakage.
Anti-cold Air Function 
The indoor fan speed is regulated automatically from the lowest grade to the set grade according to the evaporator's temperature after the unit has just started a heating operation.
Models
| Model Number | Capacity (BTU) | Efficiency (SEER) | Power Supply (V) | Suitable Area (SQF) | AHRI |
| --- | --- | --- | --- | --- | --- |
| RYB009GMFILCAD | 9000 | 19.5 | 220 | 250~350 | Certificate |
| RYB012GMFILCAD | 12000 | 19 | 220 | 350~450 | Certificate |
| RYB018GMFILCAD | 18000 | 19 | 220 | 450~650 | Certificate |
| RYB024GMFILCAD | 24000 | 20 | 220 | 650~900 | Certificate |
| RYB036GMFILCAD | 36000 | 15.5 | 220 | 900~1350 | Certificate |
| RYB048GMFILCAD | 48000 | 17.4 | 220 | 1350~1800 | Certificate |
Frequently Asked Questions
Can this be used with existent ducting?
Yes it can, but may require some minor adaptations.
Does this unit come with a plenum? Can I buy them?
The ready-made plenums do not fit the purpose most of the time. The best option is to build plenums on both sides and then use a self-filtered return grill for each access.
How many runs or ducts can you have off of this unit?
You make your own supply plenum box using fiberglass duct board and attach duct collars based on CFM air flow for each room and run the round ducts accordingly. Simply consider: you have 400 CFM air flow per 12000 BTU capacity available and distribute that as needed for each of the spaces, approximately 0.8 to 1 CFM per square foot. The diameter of the ducts you use will determine the amount of the air flow it can transport.
What size round ductwork can be used with this system?
4 to 8 inches.