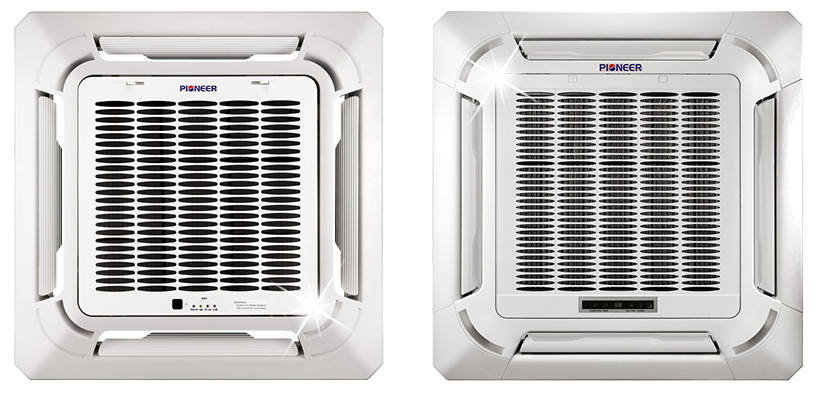 Ceiling Cassette Ductless Mini Split
This type ductless mini split system indoor unit is designed to be mounted as recessed into the ceiling, where only a decorative air exchange panel is visible. Systems are equipped with digital frequency control for automatic capacity adjustments, a convenient remote controller, automatic air sweeping louvers, cooling, heating, dehumidification and ventilation modes. Cassette systems also come with remote supply ducting and fresh air intake options.
Built-in Drain Pump Standard
Built-in pump with float switch removes the condensate water out of the unit efficiently and automatically, with a 30 inch lift capability and quiet performance.
Fresh Air Intake Provision
Fresh air connection knock-out on the body allows the connection of a small round duct to bring in fresh air from the outside, for certain applications requiring fresh air supply.
Low Ambient Operation
Equipped with a base pan and crankcase heaters that allow the system to perform flawlessly down to -5 °F outdoor ambient temperatures in heating mode.
Optional Wired Controller
An infrared wireless remote is included as standard accessory. For those that prefer to have a wired thermostat style controller, there is an optional wired version available.
360° Air Flow Panel
Air is discharged in all different directions to circulate in the space, in the best possible way, for a well-distributed cooling or heating effect without dead spots.
Reserved On-Off and Alarm Ports
An analog remote on-off controller mechanism, such as a total home control system and/or an analog alarm device, can be attached to the electronic control system of the indoor unit for external control.
Models
| Model Number | Capacity (BTU) | Efficiency (SEER) | Power Supply (V) | Suitable Area (SQF) | AHRI |
| --- | --- | --- | --- | --- | --- |
| CYB009GMFILCAD | 9000 | 20 | 220 | 250~350 | Certificate |
| CYB012GMFILCAD | 12000 | 21.5 | 220 | 350~450 | Certificate |
| CYB018GMFILCAD | 18000 | 20 | 220 | 450~650 | Certificate |
| CYB024GMFILCAD | 24000 | 20 | 220 | 650~900 | Certificate |
| CYB036GMFILCBD | 36000 | 17.5 | 220 | 900~1350 | Certificate |
| CYB048GMFILCBD | 48000 | 16.8 | 220 | 1350~1800 | Certificate |